Dr. Guillermo Ameer (B.S. '93)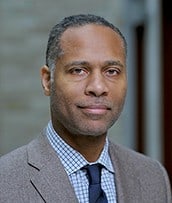 Guillermo is the Daniel Hale Williams Professor of Biomedical Engineering and Surgery in the Biomedical Engineering Department at the McCormick School of Engineering and the Department of Surgery at the Feinberg School of Medicine, Northwestern University. He is the founding director of the Center for Advanced Regenerative Engineering (CARE). He received his bachelor's degree in chemical engineering from The University of Texas at Austin and his doctoral degree in chemical and biomedical engineering from the Massachusetts Institute of Technology. His research interests include regenerative engineering, biomaterials, additive manufacturing for biomedical devices, controlled drug delivery and bio/nanotechnology for therapeutics and diagnostics.
Guillermo's laboratory pioneered the development and tissue regeneration applications of citrate-based biomaterials (CBB), the core technology behind the innovative bioresorbable orthopaedic tissue fixation devices CITREFIX™, CITRESPLINE™, and CITRELOCK™, which were recently cleared by the FDA for clinical use and marketed worldwide. CBBs are the first thermoset synthetic polymers used for implantable biodegradable medical devices. The co-founder of several companies, Guillermo has close to 300 publications and conference abstracts and over 65 patents issued and pending in 9 countries.
His awards include the National Science Foundation CAREER Award, the American Heart Association's Established Investigator Award, the American Institute of Chemical Engineers (AIChE) Eminent Chemical Engineer Award, the Key to the City of Panama, and the Society for Biomaterials Clemson Award for Contributions to the Literature. Guillermo is a Fellow of the AIChE, a Fellow of the American Institute of Medical and Biological Engineering (AIMBE), a Fellow of the Biomedical Engineering Society (BMES), Fellow of the American Association for the Advancement of Science (AAAS), and a Fellow of the National Academy of Inventors. Guillermo is an associate editor for the AAAS journal Science Advances and the Regenerative Engineering and Translational Medicine journal; a member of the board of directors of the Regenerative Engineering Society; past board member of BMES and AIMBE; chair of the AIMBE Awards Committee; and a member of the Scientific Advisory Board of Acuitive Technologies, Inc.- a company that is bringing his biomaterial technologies to the musculoskeletal surgery market.
---
Angela Archon (B.S. '83)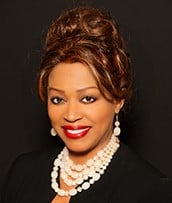 Angela Archon is an independent board director and highly accomplished senior executive, with expertise in digital transformation, information technology, and operational excellence. During 30 years at IBM Corporation, Angela honed her skills via numerous global roles, including executive positions in IBM Watson (artificial intelligence), strategy, operations, customer experience, IT systems, business development, and supply chain. Her career culminated with the position of chief operating officer, in the Watson Health Division of IBM. Angela's breadth of experiences spans from developing strategies for starting up new businesses, to scaling and growing businesses globally.
Today, Angela's main focus is board service, and she gained her first experience on the board of directors for H&R Block, Inc. Currently, Angela is a member of the board of directors for Switch, Inc, a world-leader in exascale data center ecosystems. She also serves on the Board of Stewardship Trustees for CommonSpirit Health, the nation's largest Catholic healthcare system, and she is on the McKetta Department of Chemical Engineering's External Advisory Council at UT Austin. Angela's board service also extends internationally, as she serves on the board of directors for Spirax-Sarco Engineering plc, a global manufacturer of steam management systems and peristaltic pumps, headquartered in Cheltenham, England.
Angela has been honored with several recent accolades: WomenInc. magazine recognized her as one of "2018 Most Influential Corporate Directors." Black Enterprise magazine named Angela as one of 2017's top "300 Most Powerful Executives in Corporate America."
Angela holds a B.S. in chemical engineering and M.S. in engineering systems, from UT Austin. She was inducted into Tau Beta Pi (the engineering honor society), and post-graduation, she earned her license as a professional engineer.
---
Dr. Tae-Han Kim (Ph.D. '88)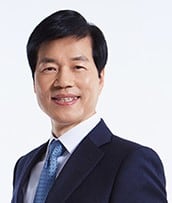 From 2011 to 2020, Tae-Han was the president and founding CEO of Samsung Biologics, a world-class contract research, development, and manufacturing service provider, committed to a mission to improve people's lives through biomedicines. Tae-Han currently serves as executive chairman of the board of directors at Samsung Biologics and is a member of the National Academy of Engineering of Korea.
Tae-Han was an active member of the International Board of Advisors of UT Austin from 2017 to 2019 in a role to mentor leaders in developing and implementing an international strategy to expand the university's global reach and impact. He also delivered a speech at the centennial symposium of the McKetta Department of Chemical Engineering in 2016.
Tae-Han's career with Samsung spans over four decades, during which he played an instrumental role not only in the biopharmaceutical industry but also in several other fields. After obtaining doctoral and master's degrees in chemical engineering from UT Austin, he began to take on various leadership roles at Samsung. Before laying the foundation of Samsung Biologics, he served as vice president at Samsung General Chemicals, senior vice president at Samsung Total Joint Venture Company, and executive vice president at Samsung Electronics. During his tenure of 10 years as CEO at Samsung Biologics, the company grew from 30 people to over 3,000, and achieved a market capitalization of $50 billion U.S. in the Korea Stock Exchange market as of January 2021.
---
Donald Mulraney (M.S. '81)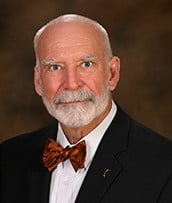 Don is an acknowledged leader in process technology development, process operations, plant design and construction. Don was a co-op at Texaco's Port Arthur plant until graduating in 1975 with a bachelor's degree in chemical engineering from UT Austin. After a period as a research associate with General Electric, Don elected to return to the university for graduate studies with a focus on automated process plant design, completing his master's degree in 1981. He went on to industry leadership positions with several international process engineering and design companies, including executive management and officer roles with Stone & Webster, Howe Baker, CB&I, and Praxair.
Throughout his career Don has promoted and contributed to the breadth of process technology development, from fundamental research to practical application. With over 45 years in process plant design, he has advanced the application of numerous improvements, especially in licensed technologies such as hydroprocessing. He has been recognized for his contributions by his colleagues, including selection to the millennium panel for the American Fuel & Petrochemical Manufacturers. He has long been a member of the AIChE, including serving as co-chair of the Fuels & Petrochemicals Division's annual meeting.
Don is committed to the principles of professional and business mentorship that he learned through a close relationship with Dr. John McKetta. This includes service to students as an instructor and guest lecturer at several universities and funding support for research, students and faculty within the Cockrell School of Engineering and the McKetta Department of Chemical Engineering. He is also a former member of the department's External Advisory Council and a current member of the Cockrell School's Engineering Advisory Board. Further, Don and his wife, Carmen (B.A. English '75), support programs all across the Forty Acres, especially in the College of Liberal Arts.
---
Dr. Jean Tom (Honorary)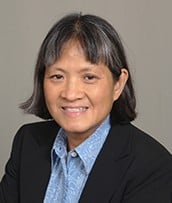 Jean is the executive director of development engineering, chemistry process development at Bristol Myers Squibb (BMS), where she leads a group of chemical engineers focused on the development of chemical processes to synthesize small-molecule drug candidates for new therapeutics. Her team generates process knowledge through lab experimentation, modeling and data visualization, and scale-up activities to enable technology and process transfer to manufacturing. Prior to joining BMS in 2006, Jean spent 19 years at Merck Research Laboratories. During that time, she held positions overseeing process development, pilot plant operations and technology transfer. She has had a role in 13 pharmaceutical products from Merck and BMS that are now in the market.
Jean received B.S. and M.S. degrees from MIT and her Ph.D. from Princeton University in chemical engineering. She is very active in the AIChE, where she has chaired the Chemical Engineering Technology Operating Council and contributed to the Pharmaceutical Discovery, Development and Manufacturing Forum. She is an AIChE Fellow and recipient of the AIChE Industrial Leadership Award (2018). In 2019, she was elected to the National Academy of Engineering for leadership in the process development of multiple commercialized drugs. Jean has chaired the Enabling Technologies Consortium, a consortium of 13 pharmaceutical and biotechnology companies working in the pre-competitive space for technology development. She contributes to the academic community through her service to the Accreditation Board for Engineering and Technology, Inc., advisory boards for several university chemical engineering departments, including the McKetta Department of Chemical Engineering's External Advisory Council from 2006 to 2016, and participation on the editorial board of the Annual Review of Chemical and Biomolecular Engineering. Jean is the department's first honorary inductee to the Academy of Distinguished Chemical Engineers.