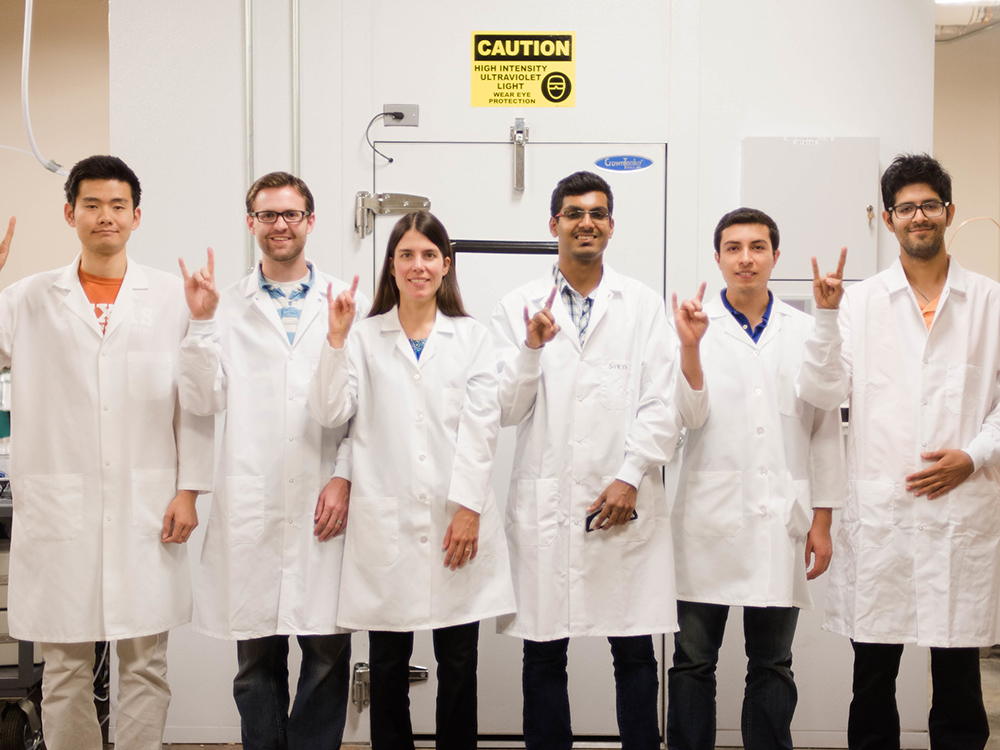 Staff at the McKetta Department of Chemical Engineering, in partnership with the Research Relations team in the Cockrell School of Engineering, work closely with companies to understand your research interests and unmet needs and develop an engagement strategy to meet these objectives. We then facilitate customized interactions between our faculty and your subject matter experts to achieve value for your organization. Below are a few ways that corporations engage with our faculty and students to advance research objectives.
Membership and Participation in Centers and Affiliate Programs
Companies join various department centers and affiliate programs to gain a first-hand view into cutting-edge research in a specific field or sector. Corporate members usually pay a yearly sponsorship fee in exchange for specific benefits, which can include: attendance at annual research meetings, annual research reports, enhanced access to students, early manuscript review and board and steering committee membership. In addition, there are many opportunities for corporate engineers and scientists to participate in centers either as advisory board members or student mentors. Centers affiliated with Chemical Engineering faculty include:
Center for Dynamics and Control of Materials (CDCM), an NSF Materials Research Science and Engineering Center
The CDCM seeks to extend the traditional paradigm of materials research beyond the study of behavior in or near equilibrium to encompass the understanding and control of materials over extended temporal and spatial scales. CDCM is recruiting professional engineers to serve as mentors for graduate students and postdocs under the Industry-University Nexus program. Become a mentor to our students »
James R. Fair Process Science and Technology Center (PSTC)
PSTC promotes advancements in process science and technology and workforce education. PSTC capabilities include a full-scale pilot plant for hands-on training of our next generation of chemical engineers, as well as a state-of-the-art program in separations research. Join PSTC as a corporate member »
NASCENT, an NSF Nanosystems Engineering Research Center
The NAnomanufacturing Systems CENTer (NASCENT) develops high throughput, high yield and versatile nanomanufacturing systems to take nano-science discoveries from the lab to the marketplace. Become an industry and innovation partner »
Solar Powered Future 2050 (SPF2050), an NSF Industry-University Cooperative Research Center (IUCRC)
The vision and long-term goal of SPF2050 is to help establish photovoltaic (PV) electricity as a major source of energy in the United States and the world. IUCRCs generate breakthrough research by enabling close and sustained engagement between industry innovators and world-class academic teams.
Texas Carbon Management Program
The Texas Carbon Management Program focuses on carbon capture from coal and natural gas power plant flue gas to help mitigate anthropogenic greenhouse gas emissions, with a goal to understand and improve all aspects of amine scrubbing. Participate in the program »
Texas-Wisconsin-California Control Consortium (TWCCC)
(TWCCC) carries out joint industrial-academic research in the areas of systems modeling, monitoring, control, optimization, and data science and includes corporate members across multiple industries. Learn more about TWCCC »
Working with Faculty
Below are just a few ways that companies engage directly with faculty in the McKetta Department of Chemical Engineering to advance their specific research and development tracks. For other research engagement requests, please do not hesitate to contact us.
Joint Grant Opportunities
Faculty and staff collaborate with industrial partners and other organizations through joint grant proposals. With research expenditures of over $650 million each year, UT is highly successful in securing federal funding. UT can either serve as a prime or sub-contractor on grant applications. If your company would like to team together for an upcoming grant opportunity, please contact us 4-6 weeks prior to the application deadline.
Sponsored Research
Each year, UT executes over 1,000 agreements for sponsored research projects between companies and university faculty. We assist companies in the contractual process, including execution of NDAs, MTAs and Sponsored Research Agreements (SRAs). Under an SRA, a statement of work, budget, milestones, IP terms and publication rights are all defined. Please contact us if you would like to collaborate with the expert faculty in the McKetta Department of Chemical Engineering.
Technology Transfer
In the past 10 years, UT faculty and staff have produced more than 1,700 invention disclosures, resulting in more than 1,200 issued U.S. and international patents and 720 option and license agreements. Faculty in the McKetta Department of Chemical Engineering are some of the most prolific innovators at UT. We can connect you to the Office of Technology Commercialization to identify intellectual property available for license to meet your specific needs. If your company would then like to further develop or validate the technology prior to license, you can also work with our faculty to prove performance or develop additional data. Search for technology available for license »
Speaking Opportunities
Faculty at the McKetta Department of Chemical Engineering are regular speakers, panelists and guest lecturers at corporate events and company technical networks/platforms. In addition, industrial partners participate in department conferences and seminars as invited speakers. Please contact us if you would like to invite department faculty to your corporation as a guest lecturer or if you are interested in participating in department events to discuss the research and development perspective of your organization.