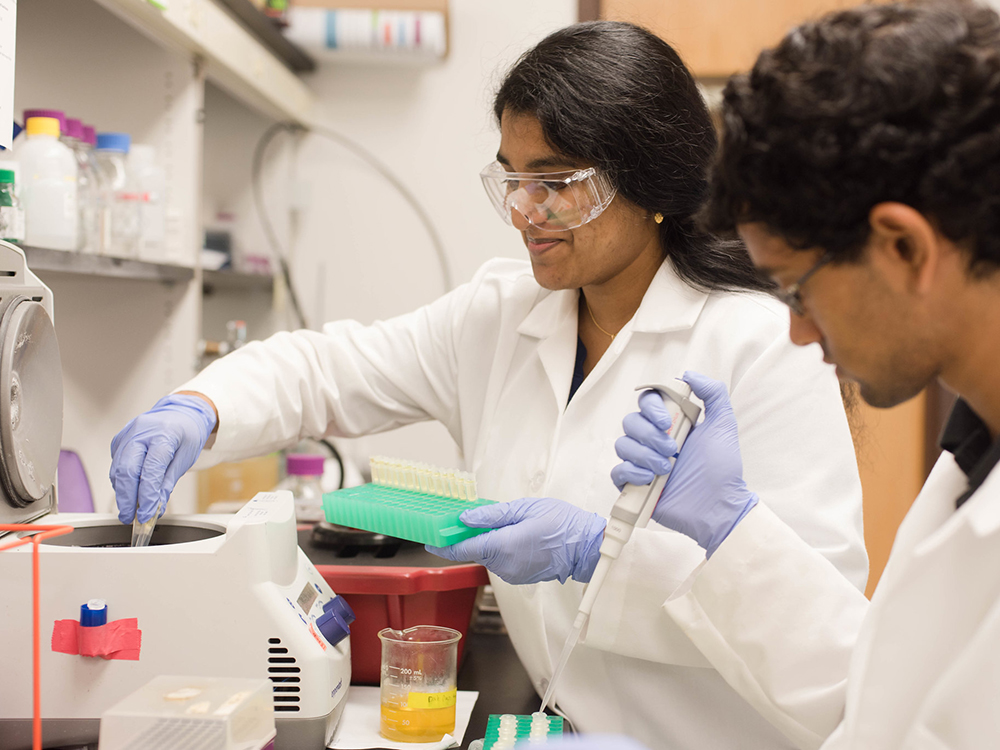 Important Information for Students Applying for Fall 2024
We're committed to working with every applicant interested in our program. We recognize that students are experiencing unprecedented external stressors that may influence their academic performance in ways that are reflected in their applications. With this in mind, we will be de-emphasizing our evaluation portions of the applications that might have suffered as a result of our current situation. For detailed instructions on the waiver process, see Completing the Online Application. We are not requiring or considering GRE scores in our review of applications.
We carry out a holistic review of all applications and are interested in personally discussing specific circumstances for each applicant. Regardless of what your situation is, please contact Professor Nate Lynd (This email address is being protected from spambots. You need JavaScript enabled to view it.) and Graduate Program Administrator (This email address is being protected from spambots. You need JavaScript enabled to view it.) if you would like to discuss any waivers or special considerations that your application might require. Applications for fall 2024 are open. Application deadline: December 1, 2023.
Admission Requirements
Degrees: Students with a bachelor of science in chemical engineering degree typically fulfill requirements for consideration for admission. Students with a bachelor's degree in another discipline, such as chemistry, physics, other engineering sciences, and natural sciences, must have a background the department considers satisfactory for the study of advanced chemical engineering. Strong educational preparation includes courses in math (including calculus and differential equations), vector physics, and coursework in thermodynamics, heat and mass transfer, and chemical kinetics.
Grades: The minimum GPA for graduate admissions is 3.0 on a 4.0 scale (International Grade Point Averages will be converted by Graduate Admissions). Here are the minimum TOEFL/IELTS scores and other admissions requirements. These admissions are set by the Graduate School. Please contact Graduate and International Admissions with any questions regarding GPA calculations or test scores.
The admissions committee always looks at grades holistically, giving consideration to applicants' experiences, attributes, and academic metrics as well as the value an applicant would contribute to learning, practice, and teaching. Many universities, including UT Austin, implemented a CR/NC grading system for Spring 2020 due to the COVID pandemic. Our committee is fully aware of this change, and it will not have a negative impact on an applicant's file.
Other: Apart from the requirements above, the department has no set criteria for admission. Applications are viewed comprehensively based on research experience, letters of recommendation, and personal statements as well as GPA and TOEFL/IELTS scores. We view each of these categories as important, and the admission committee ranks applications according to these metrics. Admissions and Enrollment Statistics are published by the University annually, however these quantitative measurements are only one part of the admissions decision.
Admissions Timeline
Applications are accepted through December 1st for the following fall. We do not recruit students for spring or summer enrollment.
Accepted students will be notified typically by early January and will be invited to a Visit Weekend. We do not offer individualized Visit Weekends for prospective or admitted students. Accepted students must accept or decline their offers by April 15th.
Finding Faculty Supervisors
Applicants do not need to contact a faculty member before applying for fall admission. Research supervisors are not selected until after students start in the fall. Applicants are asked to list their areas of interest in the application, and admitted students have the opportunity to speak with faculty supervisors about their research interests before accepting admissions offers.
Masters Degrees
The department does not admit students to complete terminal masters degrees. This is a Ph.D. program only. Most students commence the program without first obtaining a master's degree.
Transfer Students
The department does not accept transfer graduate students. All interested students must apply following the same application process as an incoming student.