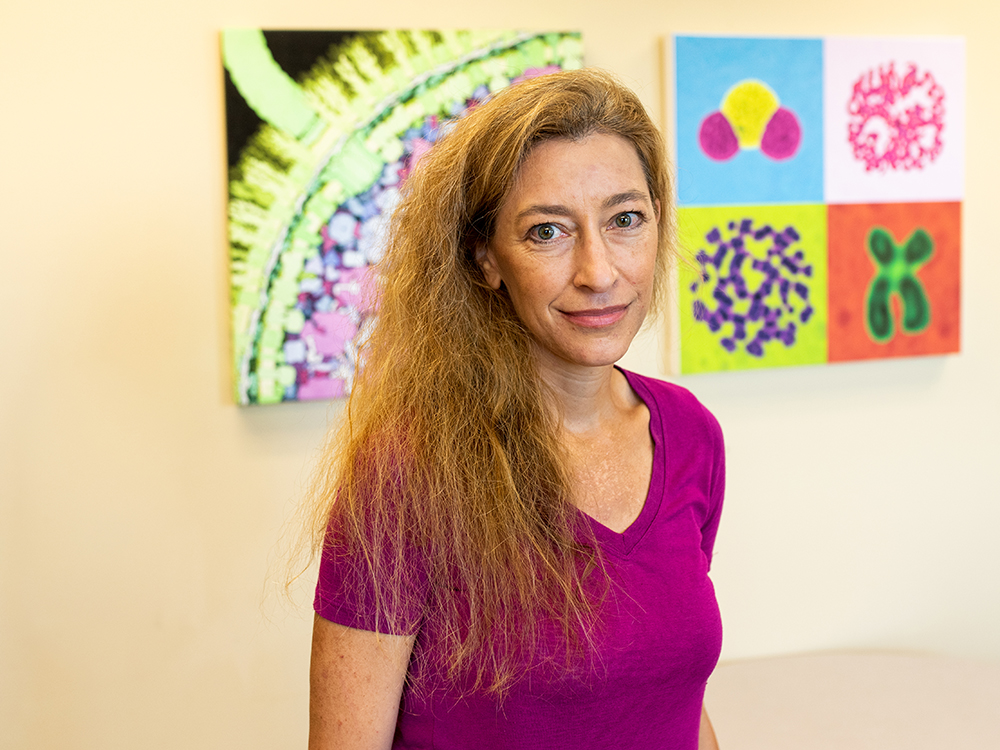 maynard@che.utexas.edu
512-471-9188
Office Location: CPE 5.466
Jennifer Maynard
Professor
Henry Beckman Professorship in Chemical Engineering
Department Research Areas:
Biotechnology

Research Presentation for Prospective Graduate Students
Educational Qualifications
Ph.D., Chemical Engineering, University of Texas at Austin (2002)
B.A., Human Biology, Stanford University (1996)
NIH Postdoctoral Fellow, Microbiology & Immunology, Stanford University (2002-2004)
Courses Taught
CHE 317 Material and Energy Balances
CHE 322 Chemical and Engineering Thermodynamics
CHE 363 Mass Transfer and Separations
CHE 379/384/ Bio 337 Quantitative Analysis of Cellular & Molecular Biology
CHE 379 Engineering Global Health
Focus
Biotechnology, protein therapeutics, vaccine development, applied immunology and microbiology.
Research
We develop protein therapeutics and vaccines to address unmet medical needs in infectious diseases. These proteins aim to directly interfere in disease progression or augment essential immune system activities. To do this, we design a candidate protein, with an emphasis on engineering the kinetics with which it interacts with other proteins as well as targeting protein transport to specific tissues in the body. This is followed by protein expression and purification to make the protein; biophysical, biochemical and cellular analyses to elucidate the molecular basis of activity; and, ultimately, in vitro and in vivo experiments to evaluate the protein's ability to prevent disease.
Our specific research goals are to:
Understand mechanisms of protective immunity and use this information to engineer more effective vaccines and therapeutics.
Reverse engineer pathogenic strategies used by bacterial pathogens for biomedical and biotechnological applications.
Control cellular immunity through manipulation of T cell receptor-peptide MHC interactions.
Apply protein engineering approaches to issues in structural biology.
Awards & Honors
Fellow of the American Institute of Medical and Biological Engineers (2017)
Inaugural University of Texas "Emerging Inventor of the Year" Award (2015)
Bill & Melinda Gates Grand Challenge Awards (2009, 2016)
Texas Exes Teaching Award for the Cockrell School of Engineering (2012)
Most Outstanding Professor in Chemical Engineering, Student Engineering Council (2010)
Packard Fellowship, David and Lucile Packard Foundation (2005)
Dreyfus New Faculty Award (2003)
National Research Service Award, NIH (2002-2004)
Selected Publications
Acquaye-Seedah E, Huang Y, Sutherland JN, DiVenere AM and Maynard JA. Humanized monoclonal antibodies neutralize pertussis toxin by receptor blockade and reduced retrograde trafficking. Cellular Microbiology, e12948. doi: 10.1111/cmi.12948 (2018).
Nguyen AW, Le KC, Maynard JA. Identification of high affinity HER2 Fab antibodies using CHO surface display. Protein Engineering Design & Selection 31(3): 91-101 (2018).
Wagner EK and Maynard JA. Engineering therapeutic antibodies to combat infectious diseases, Current Opinion in Chemical Engineering, Issue on Immuno-Engineering; 19: 131-141 (2018).
Entzminger KC*, Hyun JM*, Pantazes RJ, Patterson-Orazem AC, Qerqez QN, Frye Z, Hughes RA, Ellington AD, Lieberman RL, Maranas CD, Maynard JA. De novo design of antibody complementarity determining regions binding a FLAG tetra-peptide. Scientific Reports 7: 10295 (2017).
Wagner EK, Wang X, Bui A, Maynard JA. Synergistic neutralization of pertussis toxin by a bispecific antibody in vitro and in vivo. Clinical Vaccine Immunology, 23 (11): 851-862 (2016).
Nguyen AW*, Wagner EK*, Laber JR, Goodfield L, Smallridge WE, Padlan EA, Bristol A, Harvill ET, Papin JF, Wolf RF, Kaleko M, Maynard JA. A cocktail of humanized anti-pertussis toxin antibodies limits disease in murine and baboon models of whooping cough. Science Translational Medicine, 7(316): 316ra195 (2015).
Wang X, Gray MC, Hewlett EL and Maynard JA*. The Bordetella adenylate cyclase toxin RTX domain is immunodominant and elicits neutralizing antibodies. Journal of Biological Chemistry 290(6): 3576-91 (2015).