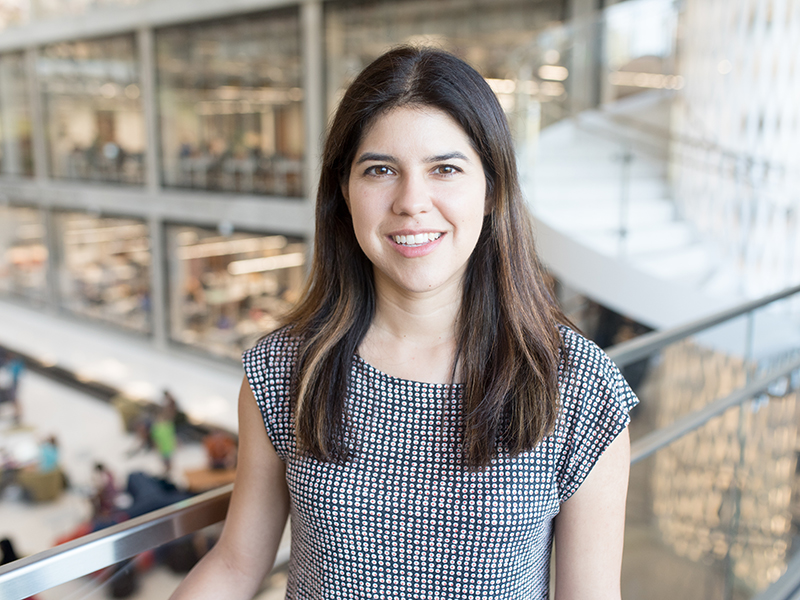 arosales@che.utexas.edu
512-471-6300
Office Location: CPE 3.418
Adrianne Rosales
Assistant Professor
Jim and Barbara Miller Endowed Faculty Fellowship in Chemical Engineering
Department Research Areas:
Advanced Materials, Polymers and Nanotechnology
Biotechnology

Educational Qualifications
Postdoctoral Research Fellow, University of Colorado, Boulder (2013 – 2017)
Ph.D., Chemical Engineering, University of California, Berkeley (2013)
B.S., Chemical Engineering, University of Texas at Austin (2007)
Courses Taught
CHE 372 Reactor Design and Analysis
CHE 210 Introduction to Computing
CHE 379/384T Molecular Principles of Biomaterials
Focus
Biomolecular and biomimetic materials, hydrogel development, cell-matrix interactions, dynamic materials
Research
We study and develop dynamic polymer systems to engineer complex biological microenvironments. In processes such as disease or tissue development, there is an active interplay between cells, the extracellular matrix, and precise chemical and physical signals that change over time. Engineered materials that capture these dynamic properties can shed insight to biological mechanisms and address problems in human health. Using principles from chemical engineering, materials science, and biology, we pursue the following research goals:
Fundamental understanding of polymer structure-property relationships, especially biomimetic and stimuli-responsive polymers
Development of synthetic hydrogels that actively probe cell-matrix interactions
Engineering new material platforms for disease models
Awards & Honors
National Science Foundation (NSF) CAREER Awardee, 2021
NIH Early Stage Investigator Maximizing Investigators' Research Award (MIRA), 2020
Journal of Materials Chemistry B Emerging Investigator, 2020
McKetta Department of Chemical Engineering TEAChE Award, 2019
The Alcalde Texas Ten Teaching Award, 2019
American Chemical Society (ACS) Polymeric Materials: Science and Engineering (PMSE) Young Investigator Award, 2019
Biomaterials Science Emerging Investigator, 2019
US Frontiers of Engineering Symposium selected participant, 2018
UT Senate Spring 2018 Professor of the Semester, 2018
Burroughs Wellcome Fund Career Award at the Scientific Interface (CASI), 2016
Selected Publications
A. Hillsley, J.E. Santos, A.M. Rosales.* "A Deep Learning Approach to Identify and Segment alpha-Smooth Muscle Actin Stress Fiber Positive Cells." Scientific Reports, 2021.
T.M. FitzSimons, E.V. Anslyn, A.M. Rosales.* "Effect of pH on the Properties of Hydrogels Crosslinked via Dynamic Thia-Michael Addition Bonds." ACS Polymers Au, 2021.
H.C. Schunk, D.S. Hernandez, M.J. Austin, K.S. Dhada, A.M. Rosales,* L.S. Suggs.* "Connecting Materials Chemistry to Inflammatory Biology: Assessing the Range of Enzymatic and Oxidative Tunability for Biosensor Design." Journal of Materials Chemistry B, 8, 3460-3487, 2020.
T.M. FitzSimons, F Oentoro, T.V. Shanbhag, E.V. Anslyn, A.M. Rosales.* "Preferential Control of Forward Reaction Kinetics in Hydrogels Crosslinked with Reversible Conjugate Additions." Macromolecules, 53(10), 3738-3746, 2020.
L.D. Morton, A.V. Hillsley, M.J. Austin, A.M. Rosales.* "Tuning Hydrogel Properties with Sequence-Defined, Non-Natural Peptoid Crosslinkers." Journal of Materials Chemistry B, 8, 6925-6933, 2020.
M.J. Austin, A.M. Rosales.* "Tunable Biomaterials from Synthetic Sequence-Controlled Polymers." Biomaterials Science, 7, 490-505, 2019.
A.M. Rosales, S.L. Vega, F.W. DelRio, J.A. Burdick, K.S. Anseth. "Hydrogels with Reversible Mechanics to Probe Dynamic Cell Microenvironments." Angewandte Chemie, 129, 12300-12304, 2017.