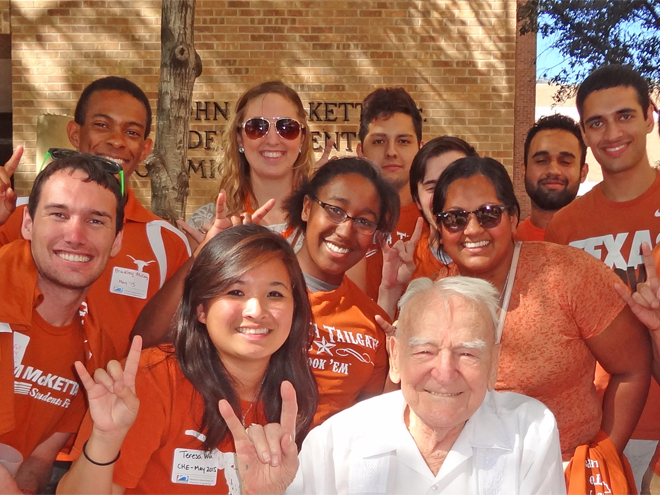 As an alum of the McKetta Department of Chemical Engineering you are among a global network of more than 8,000 professionals across a wide variety of industries. Below are the best ways you can get involved and network within this tight-knit community.
Events
Every year the department hosts several alumni-focused events on campus, across Texas and further afield. From big events like our fall Alumni Weekend, which includes our annual tailgate and Academy of Distinguished Chemical Engineers Banquet, to smaller events like networking happy hours and luncheons. There's something for everyone.
Share Your Story or Expertise
Tell your story or share your expertise by giving a guest lecture for a particular Texas ChE class, participating in a Fireside Chat with a smaller group of students or give a talk as part of our Industry Perspectives series that's open for anyone associated with the department to attend. All of these activities can take place in-person or virtually.
This email address is being protected from spambots. You need JavaScript enabled to view it.
Visit the Department
Has it been a while since you've been on campus or stepped inside the Chemical & Petroleum Engineering Building? We love it when alumni and their families come visit. Let us know ahead of time and we can schedule a student-led department tour so you can see and hear about the latest Texas ChE developments.
Connect on LinkedIn
Search for former classmates, connect with your favorite professors or boost your company's recruitment efforts by following our McKetta Department of Chemical Engineering page on LinkedIn. You can also see the latest Texas ChE news and upcoming events by following us on our other social media channels too: Twitter (@TexasChE), Instagram (@texasche) and Facebook (@mckettache).
Updated Contact Details
One important way you can stay connected with the department and take advantage of networking opportunities is to maintain an updated email address and other contact details. If you have a new email address or you've recently moved or changed jobs let us know and we'll make sure your information is updated, you can even select preferences for what kind of information you want to receive.