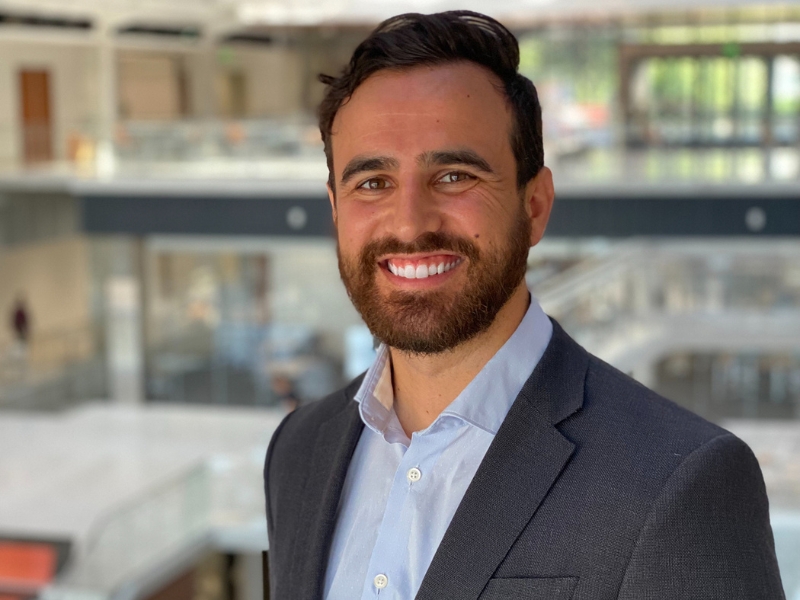 resasco@utexas.edu
512-471-5238
Office Location: EER 5.612
Joaquin Resasco
Assistant Professor
Lyondell Chemical Company Endowed Faculty Fellowship in Engineering
Department Research Areas:
Advanced Materials, Polymers and Nanotechnology
Energy

Educational Qualifications
Postdoctoral Fellow, University of California, Santa Barbara (2018-2020)
Ph.D., Chemical Engineering, University of California, Berkeley (2018)
B.S., Chemical Engineering, University of Oklahoma (2012)
Courses Taught

CHE 350 Chemical Engineering Materials
CHE 391J Graduate Reaction Kinetics
Focus
Understanding the structure and properties of catalysts to enable next-generation sustainable technologies
Research
Catalysis is central to today's society. It is the key to producing fertilizers that support nearly half of the world's population, converting oil into gasoline that fuels our cars, and cleaning pollutants from the air we breathe. Going forward, catalysis will also certainly be critical to transitioning to a more environmentally sustainable world.
We are interested in advancing the understanding of catalysis to guide the design of new, more efficient materials. To develop this understanding, we combine principles of chemical engineering, materials science, and physical chemistry. We employ a range of experimental tools to gain insights about the catalytic materials we make and the chemistry that happens on their surfaces.
Some of the questions we think about are:
How does catalyst structure and composition evolve during reactions, and what effect does that have on performance?
How can we design not only a catalytic site, but the environment surrounding it, to control selectivity and activity?
What new opportunities do electrocatalytic reactions that run on renewable electricity provide for controlling chemistry?
Awards
American Institute of Chemical Engineers (AIChE) 35 Under 35, 2023
Society of Hispanic Professional Engineers (SHPE) Young Investigator Award, 2023
ACS PRF Doctoral New Investigator Award, 2021
Forbes 30 Under 30 in Science, 2020
UC Berkeley Chancellor's Fellow, 2012
NSF Graduate Research Fellow, 2012
Selected Publications