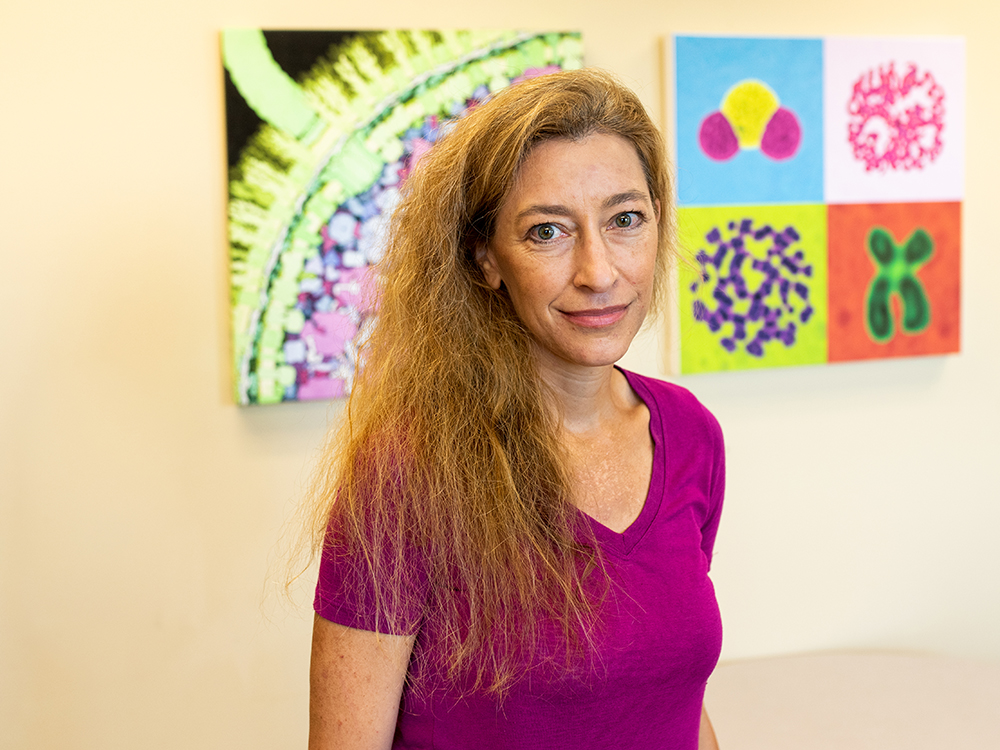 maynard@che.utexas.edu
512-471-9188
Office Location: CPE 5.466
Jennifer Maynard
Professor
Z. D. Bonner Professorship of Chemical Engineering
Department Research Areas:
Biotechnology

Research Presentation for Prospective Graduate Students
Educational Qualifications
NIH Postdoctoral Fellow, Microbiology & Immunology, Stanford University (2002-2004)
Ph.D., Chemical Engineering, University of Texas at Austin (2002)
B.A., Human Biology, Stanford University (1996)
Courses Taught
CHE 317 Material and Energy Balances
CHE 322 Chemical and Engineering Thermodynamics
CHE 338 Fundamentals of Bioengineering
CHE 363 Mass Transfer and Separations
CHE 379/384/ Bio 337 Quantitative Analysis of Cellular & Molecular Biology
CHE 379 Engineering Global Health
Focus
Biotechnology, protein therapeutics, vaccine development, applied immunology and microbiology.
Research
We develop protein therapeutics and vaccines to address unmet medical needs in infectious diseases. These proteins aim to directly interfere in disease progression or augment essential immune system activities. To do this, we design a candidate protein, with an emphasis on engineering the kinetics with which it interacts with other proteins as well as targeting protein transport to specific tissues in the body. This is followed by protein expression and purification to make the protein; biophysical, biochemical and cellular analyses to elucidate the molecular basis of activity; and, ultimately, in vitro and in vivo experiments to evaluate the protein's ability to prevent disease.
Our specific research goals are to:
Understand mechanisms of protective immunity and use this information to engineer more effective vaccines and therapeutics.
Reverse engineer pathogenic strategies used by bacterial pathogens for biomedical and biotechnological applications.
Control cellular immunity through manipulation of T cell receptor-peptide MHC interactions.
Apply protein engineering approaches to issues in structural biology.
Awards & Honors
National Academy of Inventors (NAI), Senior Member, 2023
Fellow of the American Institute of Medical and Biological Engineers, 2017
Inaugural University of Texas "Emerging Inventor of the Year" Award, 2015
Bill & Melinda Gates Grand Challenge Awards, 2009, 2016
Texas Exes Teaching Award for the Cockrell School of Engineering, 2012
Most Outstanding Professor in Chemical Engineering, Student Engineering Council, 2010
Packard Fellowship, David and Lucile Packard Foundation, 2005
Dreyfus New Faculty Award, 2003
National Research Service Award, National Institutes of Heatlh (NIH), 2002-2004
Selected Publications
Liu, Y, Nguyen AW and Maynard JA. Engineering antibodies for conditional activity in the solid tumor microenvironment. Curr Opin Biotechnol, 78:102809 (2022).
DiVenere AM, Amengor DA, Silva RP, Goldsmith JA, McLellan JS and Maynard JA. Blockade of the adenylate cyclase toxin synergizes with opsonizing antibodies to protect mice against B. pertussis. mBio, 13(4): e0152722 (2022).
Goldsmith J, DiVenere AM, Maynard JA, McLellan JS. Structural basis for non-canonical integrin engagement by the Bordetella adenylate cyclase toxin. Cell Reports, 40:111196 (2022).
Liu Y, Lee AG, Nguyen AW*and Maynard JA*. An antibody Fc engineered for conditional ADCC at the low tumor microenvironment pH. JBC, 298(4):101798 (2022).
Silva R, DiVenere AM, Amengor A, Maynard JA. Antibodies binding diverse pertactin epitopes protect mice from B. pertussis. JBC, 298(3): 101715 (2022).
Costello SM, Shoemaker SR, Hobbs HT, Nguyen AW, Hsieh C-L, Maynard JA, McLellan JS, Pak JE, Marqusee S. The SARS-CoV-2 spike reversibly samples an open-trimer conformation exposing novel epitopes. Nat Struct Molec Bio, 29: 229-238 (2022).
Goldsmith J, DiVenere AM, Maynard JA, McLellan JS. Structural basis for antibody binding to adenylate cyclase toxin reveals RTX-linkers are key neutralization-sensitive epitopes. Plos Pathogens. 17(9): e1009920 (2021).
Hsieh C-L, Goldsmith JA, Schaub JM, DiVenere AM, Kuo H-C, Javanmardi K, Le KC, Wrapp D, Lee AG, Liu Y, Chou C-W, Byrne PO, Hjorth CK, Johnson NV, Ludes-Myers J, Nguyen AW, Park J, Wang N, Amengor D, Maynard JA*, Finkelstein IJ*, McLellan JS*. Structure-based Design of Prefusion-stabilized SARS-CoV-2 Spikes. Science, eabd0826 (2020).
Nguyen AW, DiVenere AM, Papin JF, Connelly S, Kaleko M and Maynard JA, Neutralization of pertussis toxin by a single antibody prevents clinical pertussis in neonatal baboons. Science Advances 6 (6): eaay9258 (2020). DOI: 10.1126/sciadv.aay9258.
Wagner EK, Qerqez AN, Stevens CA, Nguyen AW, Delidakis G and Maynard JA. Human cytomegalovirus-specific T cell receptor engineered for high affinity and activity using mammalian display. J Biological Chemistry, 294(15): 5790-5804 (2019).