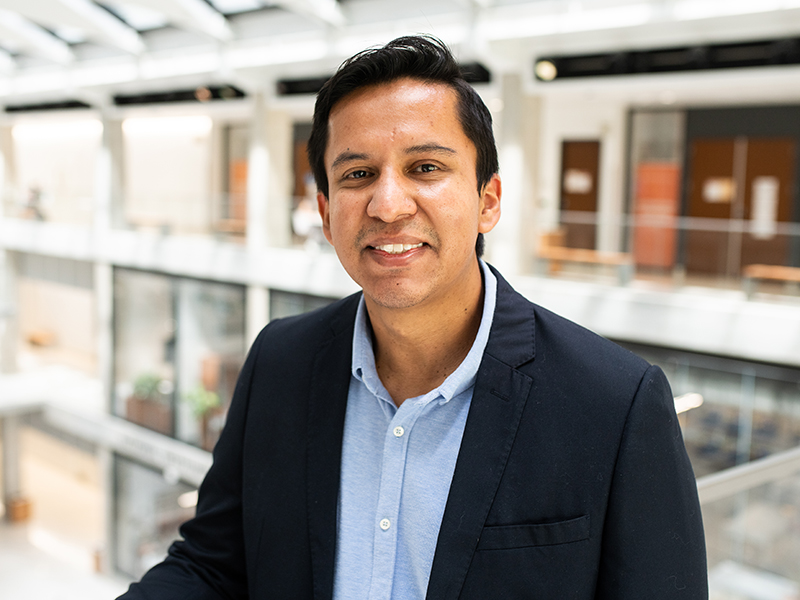 carlos@che.utexas.edu
512-471-8795
Office Location: CPE 3.454
Carlos Landaverde-Alvarado
Assistant Professor of Instruction
Educational Qualifications
Postdoctoral Researcher, Virginia Tech (2017-2018)
Ph.D., Chemical Engineering, Virginia Tech (2016)
M.Eng., Chemical Engineering, Virginia Tech (2015)
B.S. Chemical Engineering, Universidad Centroamericana José Simeón Cañas (2009)
Courses Taught
ChE 264 Chemical Engineering Process and Projects Laboratory
CHE 253M Measurement, Control, and Data Analysis Laboratory
Focus
Laboratory instruction, development, and management.
Chemical engineering education.
Research Interests
Unit Operations, Engineering Education, Experiential Learning, Professional Development, Materials and Separations Technology
Selected Publications
Landaverde-Alvarado, C.; Morris, A.; Martin, S. M. Characterization of gas permeation in the pores of Zn(II)-based metal organic framework (MOF)/polymer composite membranes. Sep. Sci. Technol. 2019, 55:14, 2604-2614.
Zhu, J.; Usov, P. M.; Xu, W.; Celis-Salazar, P. J.; Lin, S.; Kessinger, M. C.; Landaverde-Alvarado, C.; Cai, M.; Liu, R.; Slebodnick, C.; Senanayake, S.; Morris, A. J. A Novel Class of Metal-Cyclam based Zirconium Metal-organic Frameworks for CO2 Adsorption and Chemical Fixation. J. Am. Chem. Soc. 2018, 140, 993-1003.
Landaverde-Alvarado, C.; Morris, A.; Martin, S. M. Gas Sorption and Kinetics of CO2 Sorption and Transport in a Polymorphic Microporous MOF with Open Zn (II) Coordination Sites. J. CO2 Util. 2017, 19, 40-48.