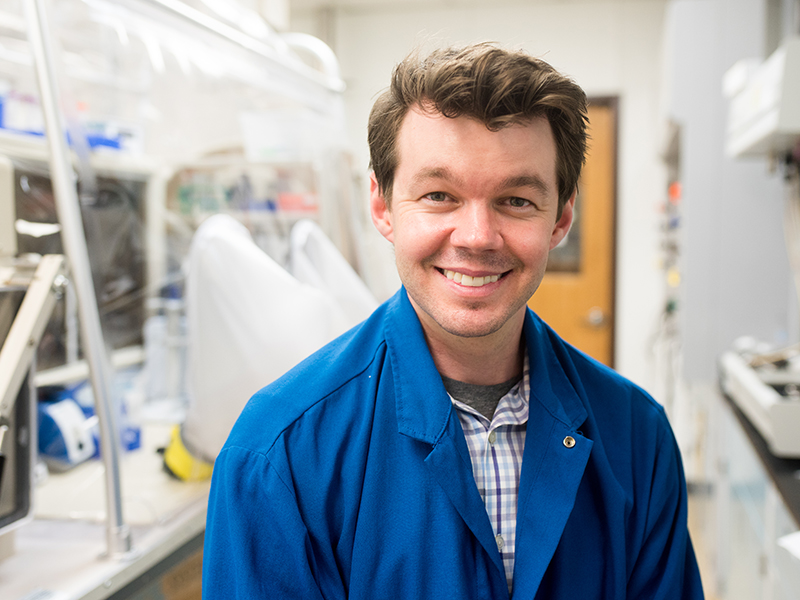 keitz@utexas.edu
512-232-2373
Office Location: CPE 4.462
Benjamin Keitz
Associate Professor
Frank A. Liddell, Jr. Centennial Fellowship in Chemical Engineering
Department Research Areas:
Advanced Materials, Polymers and Nanotechnology
Biotechnology
Energy

Research Presentation for Prospective Graduate Students
Educational Qualifications
Postdoctoral Researcher, University of California, Berkeley (2012-2015)
Ph.D., Chemistry, California Institute of Technology (2012)
B.S., Chemical Engineering, University of Texas at Austin (2007)
Focus
Chemical and biological synthesis of functional materials combined with mechanistic studies and development of structure-property relationships.
Research
We use synthetic chemistry and synthetic biology in conjunction with chemical engineering fundamentals to design new functional materials for use in catalysis, energy generation, environmental remediation, biological separations, and medicine. By connecting concepts from each of the above fields, we aim to develop artificial ecosystems where biological processes can interface with inorganic and organic substrates to generate materials with previously unknown structure and function. The nature of our work requires an engineering approach that incorporates aspects of chemical kinetics, synthetic chemistry, surface chemistry, structural biology, and the study of genetic/metabolic networks. By implementing and developing tools in each of these areas we hope to prepare students and scholars for the engineering challenges of the future.
Awards & Honors
NSF CAREER Award (National Science Foundation), 2020
Air Force Office of Scientific Research Young Investigator Award, 2020
NIH Maximizing Investigators' Research Award, 2019
Herbert Newby McCoy Thesis Award, 2013
Sigma-Aldrich Student Innovation Award, 2012
National Defense Science and Engineering Fellowship, 2008
Intel Undergraduate Fellow, 2007
Selected Publications
Fan G, Graham AJ, Kolli J, Lynd NA, Keitz BK. Aerobic Radical Polymerization Mediated by Microbial Metabolism. Nat. Chem. 2020; 12:638-646. doi:10.1038/s41557-020-0460-1.
Dundas CM, Keitz BK. Tuning Extracellular Electron Transfer by Shewanella oneidensis Using Transcriptional Logic Gates. ACS Syn. Bio. 2020; 9: 2301-2315 doi:10.1021/acssynbio.9b00517.
Springthorpe SK, Dundas CM, Keitz BK. Microbial Reduction of Metal-Organic Frameworks Enables Synergistic Chromium Removal. Nat. Commun. 2019; Nov 19;10:5212:1-11. doi: 10.1038/s41467-019-13219-w
Dundas CM, Graham AJ, Romanovicz DK, Keitz BK. Extracellular Electron Transfer by Shewanella oneidensis Controls Palladium Nanoparticle Phenotype. ACS Syn. Bio. 2018; 7(12):2726-2736. doi: 10.1021/acssynbio.8b00218.
Fan G, Dundas CM, Graham AJ, Lynd NA, Keitz BK. Shewanella oneidensisas a living electrode for controlled radical polymerization. Proc. Natl. Acad. Sci. U. S. A. 2018 May 1;115(18):4559-4564. doi: 10.1073/pnas.1800869115.