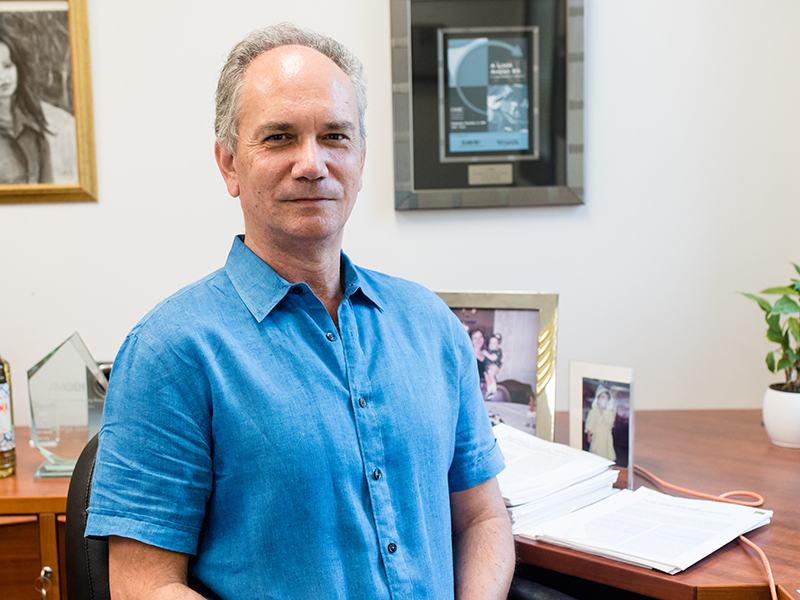 gg@che.utexas.edu
512-471-6975
Office Location: CPE 4.410
George Georgiou
Professor
Dula D. Cockrell Centennial Chair in Engineering #2
Department Research Areas:

Educational Qualifications
Ph.D., Chemical Engineering, Cornell University (1987)
M.S., Chemical Engineering, Cornell University (1983)
B.Sc., Chemical Engineering, University of Manchester Institute of Science and Technology (UMIST), England (1981)
Courses Taught
CHE 339 Introduction to Biochemical Engineering
Research
1. The discovery, early development and preclinical validation of protein therapeutics for the treatment of cancer, inborn errors of metabolism disorders and other diseases. Our lab has invented and played a key role in the early development of one FDA approved therapeutic protein and four proteins that are currently in clinical trials
2. Molecular level understanding of human antibody immunity. We have developed technologies for determining the identity (sequence), relative abundance and function of the ensemble of circulating antibodies that are elicited as a result of infection, vaccination or in disease states such as cancer and autoimmunity. The application of these technologies is providing important insights that inform vaccine design and aid in the discovery of very potent human therapeutic antibodies.
3. Engineering of the Fc domain of therapeutic antibodies to develop, "second generation" improved therapeutics and to expand our understanding of how antibodies interact with other components of the immune system to help eradicate disease-causing cells.
Awards & Honors
William H. Walker Award for Excellence in Contributions to Chemical Engineering Literature, American Institute of Chemical Engineering (AIChE), 2019
National Academy of Inventors, 2015
American Academy of Arts and Sciences (AAAS), 2015
Inventor of the Year, University of Texas at Austin, 2014
Named as one of "Top 20 Translational Researchers," by Nature Biotechnology, 2014
Elected to National Academy of Medicine (NAM), 2011
Named as one of "100 Eminent Chemical Engineers of the Modern Era," American Institute of Chemical Engineering (AIChE), 2008
National Academy of Engineering (NAE), 2005
American Association for the Advancement of Science, 2004
American Academy of Microbiology, 2004
Professional Progress Award for Outstanding Progress in Chemical Engineering, American Institute of Chemical Engineering (AIChE), 2003
Marvin J. Johnson Award in Microbial and Biochemical Technology, American Chemical Society (ACS), 2003
American Institute for Medical and Biological Engineering (AIMBE), 1996
Presidential Young Investigator Award, National Science Foundation, 1987
Selected Publications
Voss, W.N., Hou, Y.J….Baric, R.S., McLellan, J.S., Georgiou, G., Lavinder, J.J. and Ippolito GC., "Prevalent, Protective and Convergent IgG Recognition of SARS-CoV2 non-RBD Spike Epitopes," Science 2021 372:1108-1112 PMID: 33947773
Badgley, M.A….. Georgiou, G., Manor, U., Iuga, A., Wahl, G. F., Stockwell, B.R., Lyssiotis, C.A. and K. P. Olive, "Cysteine depletion induces pancreatic tumor ferroptosis in mice, " Science 368:85-89 (2020)
Tanno, H…..Weyand, C.M., Georgiou, G. and J.J., Goronzy, "Determinants Governing T cell Receptor α/β-Chain Pairing in Repertoire Formation of Identical Twins," Proc. Natl. Acad. Sci. USA 117:532-540 (2020)
Wang, W…..Stone, E., Georgiou. G., Chan, T.A., Chinnaiyan, A. and W. Zou, "CD8+ T Cells Regulate Tumour Ferroptosis During Cancer Immunotherapy" Nature 569 (7755):270-274 (2019)
Lindesmith, L.C., McDaniel….Blazeck, J. J., Ippolito, G.C., Vinje, J., Kwong, P.D., Georgiou, G. and Baric, R. "Boosted Broad Binding/Blockade Antibodies Dominate the Serological Repertoire to Norovirus Vaccine" Immunity 50:1530-1541(2019)
Lee, J…. Corti, D., Lanzavecchia, A. and G. Georgiou, "Persistent Antibody Clonotypes Dominate the Serum Response to Influenza over Multiple Years and Repeated Vaccinations," Cell Host Microbe 25 (3):367-376 (2019)
Triplett, T.A., Garrison, K.C…..and G. Georgiou, "Reversal of Indoleamie 2,3-Dioxygenase-Mediated Cancer Immune Suppression by Systemic Kynurenine Depletion with a Therapeutic Enzyme," Nature Biotechnology 36(8):758-764 (2018)
Wang, B., DeKosky, B.J…..Ellington, A.D., Mascola, J.R. and G. Georgiou, "Functional Interrogation and Mining of Natively Paired Human VH:VL Antibody Repertoires," Nature Biotechnology 36(2):152-155 (2018)