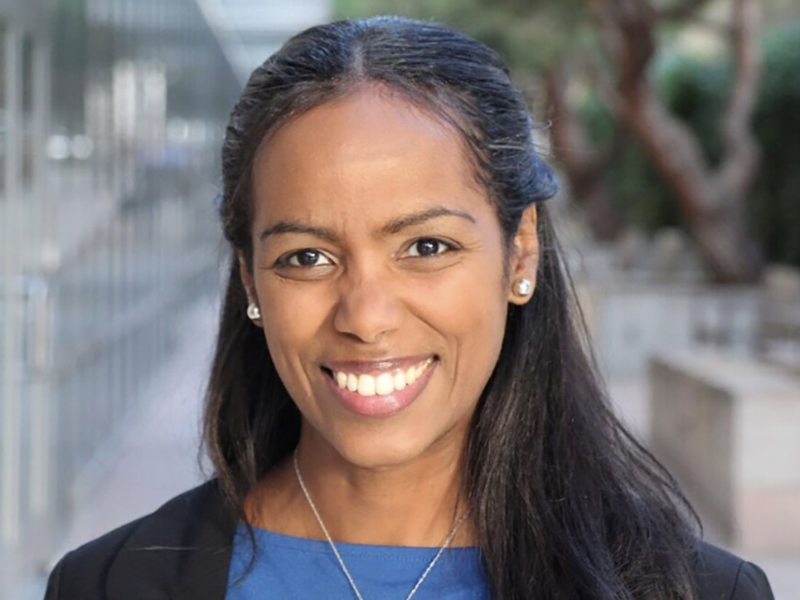 lcontrer@che.utexas.edu
512-471-2453
Office Location: CPE 5.410
Lydia Contreras
Professor
Paul D. & Betty Robertson Meek Centennial Professorship in Chemical Engineering
Department Research Areas:
Biotechnology
Environmental Engineering
Modeling and Simulation

Educational Qualifications
NIH Postdoctoral Fellow (Infectious Diseases), Division of Developmental Genetics and Bioinformatics, Wadsworth Center-New York State Dept. of Health, Albany, NY (2008-2010)
Ph.D., Chemical and Biomolecular Engineering, Cornell University (2008)
B.S.E., Chemical Engineering, Princeton University (2003)
Courses Taught
CHE 317 Introduction to Chemical Engineering Analysis
Focus
Biomolecular engineering, biotechnology, metabolic and cellular engineering
Research
Our research combines biomolecular engineering, genetic studies and computational modeling to understand molecular features that lead to the specific recognition and interaction of RNAs and proteins. We apply fundamental concepts that emerge from experimental (and computational) work to develop novel applications that could beneficially impact human health.
Overall research goals:
RNA-protein interactions, RNA-protein folding
Novel molecular tools for intracellular studies of RNA-metabolism
Protein engineering for novel mechanisms of molecular recognition
Diagnostics for RNA-related diseases
Discovery of drugs targeting RNAs
Optimization strategies for therapeutic RNA/protein expression
We welcome interest from motivated undergraduate students who want to pursue graduate research and from exceptional graduate students who are interested in postdoctoral research opportunities. Please don't hesitate to contact Prof. Contreras for additional information.
Awards & Honors
Elected Fellow of the American Academy of Microbiology, 2023
FASEB Postdoctoral Development and Enrichment Award, 2009
Edna and William Hooey Award, Chemical Engineering Dept. Cornell. University, 2007
NSF IGERT Fellow, Cornell University, 2004-2006
Selected Publications
Contreras Martinez, L., Martinez-Veracoechea, F., Pohkarel, P., Stroock, A.D., Escobedo, F. and DeLisa, M.P. (2006) Protein translocation through a tunnel induces changes in folding kinetics: a lattice model study. Biotechnol Bioeng 94: 105-117.
Contreras Martinez, L. and DeLisa MP (2007) Intracellular ribosome display via SecM translation arrest as a selection for antibodies with enhanced cytosolic stability. J.Mol.Biol. 372(2): 513-524.
Contreras Martinez, L., Borrero, E.E., Escobedo, F. and DeLisa, M.P. (2007) In silico protein fragmentation reveals the importance of critical nuclei in domain reassembly. BioPhys J. 94(5): 1575-1588.
Contreras Martinez, L. and DeLisa, M.P. (2007) Expression engineering of synthetic antibodies using ribosome display. In: Dyson, M. and Durocher, Y., editors. Expression Systems – Methods Express. Oxfordshire, UK: Scion Publishing.
Borrero, E.E., Contreras Martinez, L., DeLisa, M.P. (2010) Kinetics and reaction coordinates of the reassembly of protein fragments via forward flux sampling. BioPhys J. 98(9): 1911-20.
Dichiara, J.M., Contreras Martinez, L., Smith D., and Belfort M. (2010) Identification of small RNAs in the TB-complex bacterium Mycobacterium bovis BCG reveals a link to Crp/Cmr related metabolism. NAR, 38 (12): 4068-4078.
Wu, W-Y., Gillies, A. R., Hsii, J. F., Contreras, L., Oak, S., Perl, M. B. and Wood, D. W. Self-cleaving purification tags re-engineered for rapid Topo® cloning (2010). Biotechnol Prog, 26 (5):1205-1212.
Huang, T., Shaikh,T., Gupta, K., Contreras-Martin L., Grassucci, R., Van Duyne, G.D., Frank, J., Belfort, M. The group II intron ribonucleoprotein precursor is a large, loosely packed structure ( Nucleic Acids Research, published online of press December, 2010).
Contreras-Martin, L., Huang, T., Piazza, CL., Danserau J., Belfort, M. (2010) A protective interaction between the Lactoccocus lactis group II intron RNP and host ribosomes (in preparation).
Gupta, K., Contreras-Martin L., Huang, T., Belfort, M., and Van Duyne, G. (2010) SAXS envelope of group II intron RNP provides arrangement of proteins and RNA components (in preparation).
Contreras-Martin, L., Dichiara, J., Belfort, M. (2010) A phylogenetic approach to refining sRNAs prediction using Mycobacterium as a model (in preparation).