Calendar
Events Calendar
Alumni Weekend
Thursday, November 10, 2022
- Saturday, November 12, 2022
Location: The University of Texas at Austin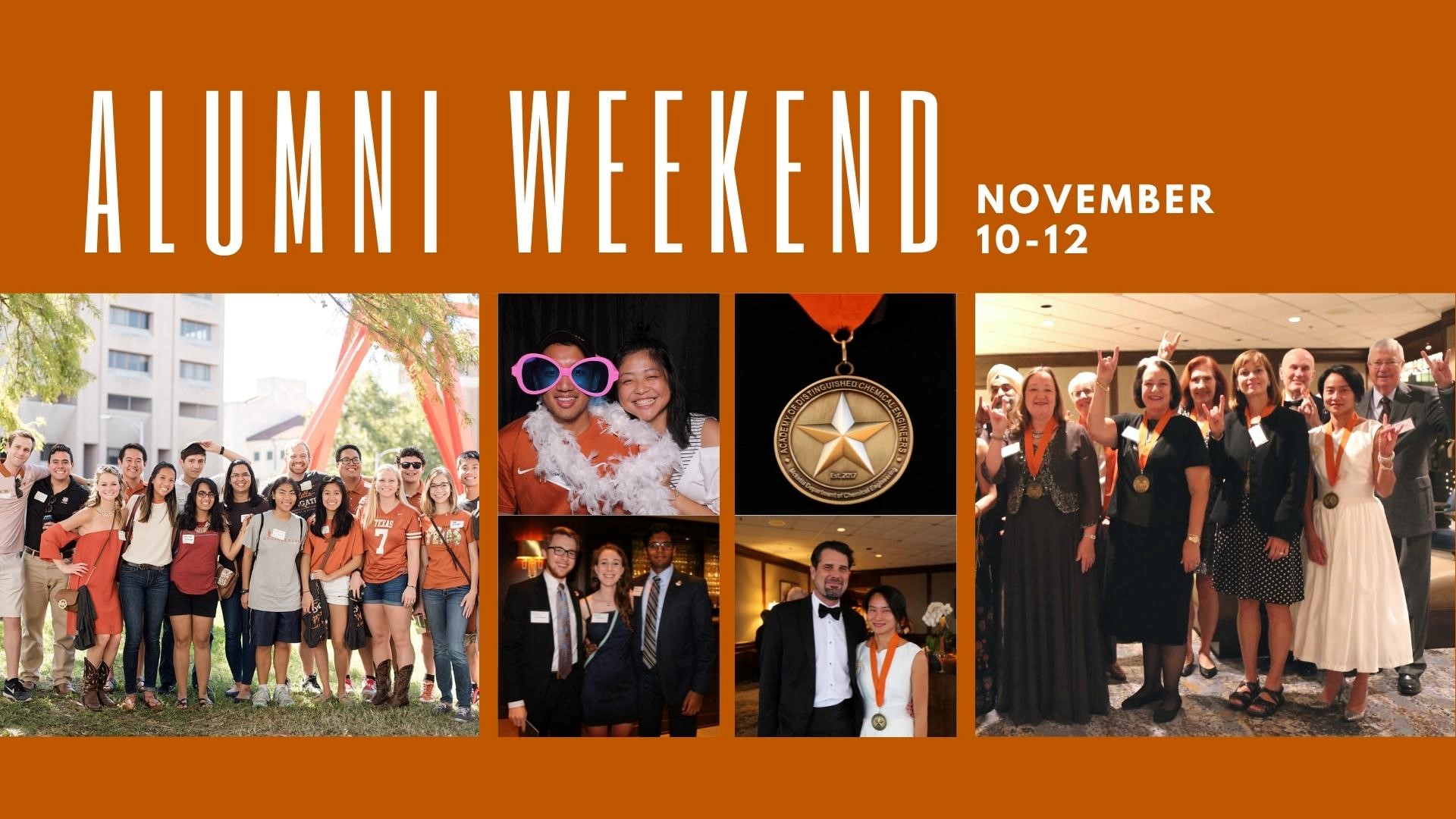 Welcome back to the Forty Acres! Join us this November 10, 11, and 12 for Alumni Weekend--three days of special events bringing alumni of the McKetta Department of Chemical Engineering together with students, faculty, staff, and friends.
Attend one or all of these events:
Alumni Weekend Kick-off Happy Hour
THURSDAY, NOVEMER 10
5:30 - 7:30 p.m.
FREE Event
Location TBA
Complimentary food and drinks provided. Alumni, faculty and staff, and graduate students welcome.
Academy of Distinguished Chemical Engineers Event
FRIDAY, NOVEMBER 11
6:00 - 9:00 p.m.
Ticketed event: $100
The Headliners Club // MAP
Elegant and intimate evening celebrating three classes of honorees - 2020, 2021 and 2022 - with the department's highest honor. Includes cocktail hour, seated dinner, and ceremony.
2020 Honorees: James Davis, Dennis Griffith, Rachel Sagelman, Pam Tucker, Micheal Zeglin
2021 Honorees: Guillermo Ameer, Angela Archon, Tae-Han Kim, Donald Mulraney, Jean Tom
2022 Honorees: Bill Anderson, Jose Bravo, KaRan Reed, Chad Wilson, Glenn Wright
McKetta Tailgate (Texas vs. TCU), supported by Phillips 66
SATURDAY, NOVEMBER 12
3 hours before kick-off (kick-off time TBA)
FREE Event
CPE Front Lawn // MAP
Enjoy free food, drinks, family-friendly fun, and free department t-shirts (while supplies last)!
We're committed to creating an accessible environment for all—please contact Anu Mathew (This email address is being protected from spambots. You need JavaScript enabled to view it.) if you have any questions or need accommodations for this event.
Speaker: n/a